Mother's Day is coming up soon and if you haven't already planned out what you want to get mom for Mother's Day, then you should start now.
How could you ever come up with gift ideas that would thank them for all they have done? If you've been thinking about buying her a gift, but aren't sure what to get her, then you're in luck because there are plenty of fun activities and things to do with mom that she would love.
Here are 30 fun activities and things to get mom for Mother's Day.
1. Go on an adventure together!
If your mother has always wanted to go camping or take a road trip somewhere new, this year make it happen. You can even plan the whole thing out ahead of time so that when Mother's Day rolls around, all you have to worry about is packing everything into one suitcase.
2. Take a cooking class together
Cooking classes are great ways to spend quality time together while learning something new at the same time. Not only will you be able to cook delicious meals together, but you'll also learn how to prepare food safely as well.
3. Have a spa day together
Spa days are perfect for moms who need some pampering after being home alone with their kids all week long. They're also a lot cheaper than going to a salon where they could end up spending thousands of dollars just getting highlights done.
4. Plan a girls' night out
Whether you choose to stay local or travel somewhere else, planning a girls' night out is a great way to bond over drinks and dinner. It doesn't matter if you decide to meet up at a bar or restaurant, order pizza and watch movies, or head off to a fancy steakhouse – these nights are meant to be spent catching up with each other.
5. Get crafty together
Craft projects are another easy activity that you can enjoy doing together. From making jewelry to creating beautiful artwork, crafting gives both of you something creative to work on while bonding over the process. Plus, you don't necessarily have to use any expensive supplies like glue guns or sewing machines.
6. Watch a movie marathon together
Watching movies together is a classic date-night activity that everyone loves. There's nothing better than curling up next to each other on the couch and watching a good flick.
See also
7. Clean the House
Cleaning the house may not be one of our favorite activities, but If you want to surprise mom on Mother's Day then clean the house from top to bottom. You don't need any fancy tools; simply use what is available around the house like brooms, mops, dusters, vacuum cleaners, etc. This task won't only help you spend less money but also save energy because there will be no need to run an electric appliance.
8. Make Her Breakfast In Bed
Breakfast in bed is such a romantic gesture and makes breakfast feel extra special. Instead of having to wake up early and rush through your morning routine, why not let mom sleep late? After waking her up gently by kissing her cheek, pour her coffee and sit down beside her before starting your own meal.
9. Get Blowouts
If you live near a salon, go ahead and treat your mother to an amazing blowout. You can also consider doing it at home using products from Garnier Fructis. It has many different options such which means she will get lots of bang for her buck.
10. Go Shopping Together
Shopping isn't something most mothers look forward to, but when you plan things well, shopping becomes much easier. If you know exactly which stores she likes, make sure to take her along so she feels included. Also, try to avoid crowds since this may cause stress for her.
11. Cook Dinner For The Family
Cooking dinner for the family is one of those activities that every parent enjoys doing. However, sometimes we forget about our families during busy times. So instead of rushing them into eating fast foods, why not invite them over for a nice homecooked meal?
12. Take A NapTogether
Taking naps together is a wonderful thing to do especially if you've been working hard throughout the week. Napping helps boost mood and productivity levels, plus it allows you two to catch up on everything that happened during the day.
13. Book a private yoga session
Does mom practice yoga? Going to a yoga class is wonderful and maybe that's the thing you'll want to do this Mother's Day, but consider something a bit more special. Hire a private yoga teacher (that you know mom would love) to come to the house to give her one-on-one on the morning or afternoon of Mother's Day.
14. Turn mom's story into a book
Everyone has a life story worth knowing and mom is no exception. Combine arts and crafts with a little research and a whole lot of quality time for a day of helping to re-create mom's story. Use old family photos, mom's own recollections, and the internet (full of family history tidbits). Make a sort of life-story book for (and with) mom. She'll love getting to re-tell some of her favorite memories and you'll get to know her even more!
 15. Throw a (Real or Virtual!) Tea Party
Tea parties are always fun and they're perfect for celebrating moms who have just turned 50 years young. They're easy enough to throw yourself, but if you'd prefer to hire someone else, check out these tea party ideas.
16. Celebrate Her Love of Design
Designers often create beautiful works of art as gifts for their loved ones. Why not celebrate mom's passion for design by giving her a gift like this? Or better yet, ask her what kind of designs she loves best and then surprise her with a piece of jewelry made specifically for her.
17. Flip Through a Custom Photo Album
Custom photo albums aren't only great for capturing all the precious moments in your lives; they're also thoughtful presents that let people see how much you care. And because custom photo books allow you to choose any pictures you wish, there's really nothing stopping you from including images of both you and your mom.
18. Go "Antiquing"
There's nothing more exciting for collectors than discovering that one-of-a-kind vintage finds. Since traditional "antiquing" may not be an option, send her a gift card to a vintage emporium like Chairish or everything but the house, then hop on the phone to browse together and wade through all the treasures.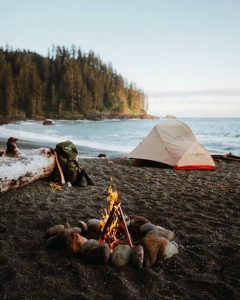 If mom is the kind of gal who enjoys time outdoors, there's no better way to spend quality time with the entire family than pitching a few tents and roasting some marshmallows around the fire.
20. Plan a surprise trip
Planning a surprise vacation or day trips are a great way to show how much you care. Whether you go somewhere local or abroad, planning ahead will ensure that everyone gets their share of attention.
21. Plan a picnic at your local park
Outdoor activities like Picnics are classic ways to enjoy nature while spending quality time with friends and loved ones like your mom on her mother's day. If you live near a city park, plan a picnic where you can take advantage of its many amenities. You could also pack a lunch from home and bring it along so you don't need to worry about finding food when you arrive.
22. Do a Jigsaw Puzzle Together
Jigsaws are a fantastic way to bond over puzzles and games alike. There are plenty of online sites that allow you to create custom jigsaw puzzles based on pictures taken throughout motherhood. This is a terrific way to celebrate mom without having to buy anything expensive.
23. Go wine tasting
If the kids are all 21+, then head to a nearby winery for a Mother's Day tasting. Or, if she's not a "wine mom," try a local craft brewery instead. At the end of the tasting, make sure to grab a bottle or two of her favorite to take home.
24. Get creative with DIY projects
From painting walls to sewing curtains, crafting is another hobby that never fails to inspire creativity. It doesn't matter what type of project you choose; as long as it involves something you've been wanting to do, you should definitely give it a shot.
25. Get Mani-Pedis
Mani-pedis are a wonderful way to pamper mom during her special day. While pedicures aren't typically considered part of the typical spa experience, they offer a relaxing environment away from the hustle and bustle of everyday life. Plus, they're super affordable—so why not treat her?
26. Give Mom the Perfect Bouquet
A bouquet of flowers is always appreciated, especially since Mother's Day falls right before Valentine's Day. But, if you want to really wow mom, consider giving her a beautiful arrangement made up entirely of different types of blooms. From roses to tulips, lilies to daisies, these arrangements look stunning and smell amazing too.
27. Help her explore a passion project.
Whether it's learning new skills or taking up a new sport, helping mom pursue a lifelong dream is a thoughtful gesture that shows just how important she is to you. And, by doing this, you'll have created memories that last forever.
28. Take her out dancing
Dancing has become such a popular activity among millennials that even those who haven't picked up a pair of heels in years still love going out to dance clubs. So, whether you know any good spots around town or simply decide to hit one of the big cities, there's no reason you shouldn't get down tonight!
29. Candles/Jewelry Boxes
Candles are an inexpensive gift idea that will be cherished year after year. They come in a variety of scents, including lavender, rosemary, vanilla, orange blossom, etc., which makes them perfect for creating unique gifts.
30. Surprise Her at Home
Surprise mom with a fun little adventure outside of the house. Whether it's a trip to the beach, amusement park, museum, zoo, or other outdoor attraction, you'll both appreciate being able to spend some alone time together.
What would you add to our list? Share your ideas below!
Neil James
Neil James is a great believer in getting things done. This includes getting things ticked off your bucket list! From both personal experience and his own bucket list. He shares with you all many great ideas to ensure you live your life to the maximum.
Related posts