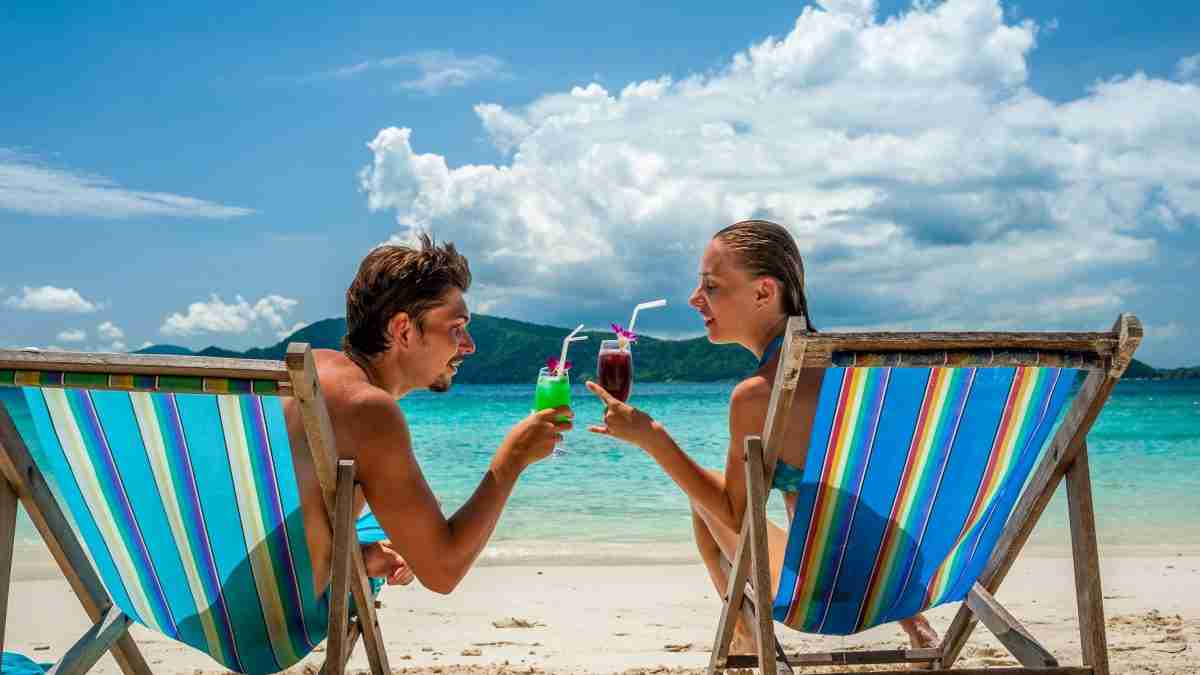 Are you looking for an exciting destination for your next country vacation where you can experience a rich culture, beautiful scenery, and delicious food?
Thailand is a beautiful country located in Southeast Asia. With its rich history, vibrant culture, and breathtaking natural beauty, it's no wonder that this country has become one of the most popular tourist destinations in the world.
Here's why you should make Thailand your next dream getaway:
Welcoming Nature of the Thai People
One of the best ways to experience the welcoming nature of Thailand's people is by staying in a village homestay. You'll have an opportunity to immerse yourself in Thai culture. You can learn about local customs and etiquette, sample traditional cuisine and interact with locals from all walks of life.
Village homestays are often located off-the-beaten-path, so you'll get access to truly authentic experiences that will help you understand why Thailand has long been known for its hospitality and friendliness.
Experience Thailand's Amazing Landscape
The Natural Landscapes of Thailand are simply breathtaking. Its miles of pristine beaches, crystal-clear waters, and lush jungles provide the perfect backdrop for a relaxing getaway. Whether you're sunbathing, snorkeling, or exploring the local wildlife, the islands of Thailand are a nature-lover's paradise.
Spectacular Beaches and Islands in Thailand
Koh Tao – This small island off the east coast of Thailand is known for its crystal-clear waters and stunning coral reefs. One of the top Dive sites in Thailand.
Koh Lanta – This large island in the Andaman Sea boasts some of Thailand's most beautiful beaches, with white sand and turquoise waters.
Koh Samui – This tropical paradise is known for its white sand beaches, coconut palms, and coral reefs.
Phi Phi Island – These stunning limestone islands are situated in the Andaman Sea off the coast of Krabi Province. They are popular for their spectacular scenery and crystal-clear waters. The movie of Leonardo DiCaprio "The Beach" was filmed here.
Railay Beach – located in the province of Krabi and is only accessible by boat. This secluded beach is surrounded by towering cliffs and is a popular spot for rock climbing and kayaking.
Khao Phing Kan or James Bond Island – This tiny island in the Phang Nga Bay is famous for its appearance in the James Bond movie, "The Man with the Golden Gun".
National Park and Sanctuaries in Thailand
Khao Yai National Park – UNESCO World Heritage Site and Thailand's oldest and largest national park, is home to a wide array of wildlife like elephants, tigers, and bears.
Khao Sam Roi Yot National Park – This park is known for its limestone mountains and caves, as well as its picturesque coastline.
Doi Inthanon National Park, which is home to Thailand's highest mountain "Doi Inthanon", is an ideal location for those interested in bird watching and trekking.
Kaeng Krachan National Park – This park is located in the western part of Thailand and is known for its stunning waterfalls and limestone cliffs.
Khao Sok National Park – This park is home to some of Thailand's most spectacular scenery, including limestone cliffs, dense rainforest, and beautiful lakes.
Doi Suthep-Pui National Park – Located in Chiang Mai Province, Doi Suthep-Pui National Park is known for its scenic mountain landscapes, diverse wildlife, and the famous Wat Phra That Doi Suthep temple.
Elephant Nature Park – This elephant sanctuary  is dedicated to the rescue and rehabilitation of elephants.
Delicious Cuisine and Street Food
Thailand is also famous for its vibrant food culture. From its delicious street food to its world-class cuisine, there's no shortage of tasty treats to try in this Southeast Asian country.
Thai cuisine is renowned around the world for its unique flavors and spices. From traditional dishes like Pad Thai, Tom Kha Gai (Chicken in Coconut Soup). to exotic fruits like durian, there are plenty of delicious treats waiting to be discovered in Thailand!
The authentic flavors of Thai food from Thailand are sure to be even more delicious than any Thai dishes you've tried from your home country!
Famous Dishes in Thailand
Pad Thai – Stir-fried rice noodle dish that is one of Thailand's most famous exports. This classic noodle dish is a favorite among tourists and locals alike.
Tom Yum Goong – This spicy soup is made with shrimp, mushrooms, lemongrass, and kaffir lime leaves.
Larb Moo – This minced pork dish is flavored with lime juice, fish sauce, and chili peppers.
Khao Soi – This northern Thai dish is a curry-based noodle soup that is served with pickled cabbage and shallots.
Gaeng Keow Wan Gai – This green curry is made with chicken, coconut milk, and a variety of Thai herbs and spices.
Khao Pad – fried rice dish made with jasmine rice, vegetables, and either meat or seafood.
Som Tum – A spicy salad made with green papaya, tomatoes, peanuts, and chilies.
Mango Sticky Rice – This popular dessert is made with sweet, ripe mangoes and sticky rice.
When you visit Thailand, be sure to add Thai street food to your bucket list! Enjoying a delicious meal with unique flavors is the best way to truly experience the country's culture and cuisine. Thai street foods are bustling with all sorts of culinary delights – from deep-fried seafood dishes to traditional curries.
Where to Eat in Thailand: Stunning Street Food & Fine Dining Experiences
When you're exploring Thailand, the best way to get to know the local culture, traditions and flavors is definitely through their food. From stunning street food stands in Bangkok's bustling city night markets, to delicious meals at fine dining restaurants in Phuket's beach resorts – Thailand offers a multitude of tasty dishes that any traveler would love.
To experience some of Thailand's best cuisines, start your journey in Bangkok where you'll find an abundance of street food vendors selling everything from aromatic curries and spicy noodles, to fried bugs and grub worms.
Exploring local markets and eateries can also be an exciting adventure. The Chaeng Wattana Night Market in Bangkok is a particularly popular spot for tourists and locals alike, who throng its narrow alleys for delectable treats.
You can experience everything from Pad Thai noodles to freshly cooked fishcakes or even create your own signature dish by mixing different ingredients from various street stall!
There are also plenty of vegetarian options available so everyone can enjoy the flavors of authentic Thai street food without any worries – making it a great option for budget travelers.
Fascinating Temples in Bangkok
The historic temples of Thailand are not to be missed. Each one is a stunning work of art, showcasing the intricate carvings, sculptures, and paintings that tell the story of Thailand's rich cultural heritage.
It has plenty of awe-inspiring Buddhist temples that are steeped in rich spiritual traditions that are sure to leave lasting impressions on any traveler searching for deeper meaning within their travels! From grand pagodas emerging from misty mountain tops like Doi Suthep outside of Chiang Mai.
Most Visited Temples
Wat Phra Kaew – temple of the Emerald Buddha
Wat Phra Kaew is considered the most important temple in Thailand and is home to the revered Emerald Buddha, a Buddhist statue carved from jade, one of Thailand's most important religious artifacts. The temple is considered one of the most sacred in Thailand and attracts thousands of visitors each year.
Wat Arun – Temple of Dawn – Budhist Temple in Bangkok Yai district of Bangkok, Thailand
Stunning temple located on the west bank of the Chao Phraya River in Bangkok. The temple is known for its stunning Khmer-style architecture and intricate details, including colorful glass and Chinese porcelain adornments.
Wat Pho – Buddhist temple complex in the Phra Nakhon District, Bangkok, Thailand.
One of the largest and oldest temples in the city and is known for its giant reclining Buddha statue, which is over 46 meters long. The temple is also considered the birthplace of traditional Thai massage and offers massage and wellness services to visitors.
Wat Rong Suea Ten -Blue Temple or Temple of the Dancing Tiger.
Located in the city of Chiang Raiand is known for its stunning, modernist architecture and intricate details. The temple is also known for its elaborate murals, which depict traditional Buddhist stories and legends.
In addition, the temple is also known for its unique blue color, which is said to represent the sky and the heavens.
Wat Rong Khun – White Temple Located in Chiang Rai
this temple is known for its unique white color and intricate details. The temple is said to represent the purity of Buddhism and is a popular destination for tourists looking to experience the beauty of Thai culture.
A privately owned art exhibit in the style of a Buddhist temple in Pa O Don Chai, Mueang District, Chiang Rai Province, Thailand. It is owned by Chalermchai Kositpipat, who designed, constructed, and opened it to visitors in 1997
Etiquettes For Visiting Temples
When visiting temples in Thailand, always be respectful and mindful of local customs–although they're generally less strict than other countries in Asia! When visiting a religious site, it's advised to wear modest clothing that covers your shoulders and knees, remove hats and shoes, and conceal any tattoos depicting religious symbols.
Some other dos and don'ts are:
Never take a selfie while your back is turned to a Buddha
Turn your phone on silent
Don't point at a monk or statue of a Buddha
Don't be loud
Show respect at all times
Popular Exotic Activities for Adventure-Lover
Khao Sok National Park in the Surat Thani Province of Thailand is a great destination for adventurers. With its mesmerizing rainforest landscape and rich wildlife. There are different levels of jungle treks available ranging from beginner-level hikes to multi-day tours into deep-jungle wilderness areas.
Skydiving is one of the most popular exotic activities for adventure-lovers. From flying through the clouds and freefalling from 10,000 feet to experiencing a beautiful jolt as you open the parachute, skydiving is an adrenaline rush like no other. Plus, you get stunning aerial views of the countryside that you won't see anywhere else!
If you love the thrill of extreme sports but don't want to dive from planes all the time, why not try paragliding? Paragliding is much safer than skydiving because it involves gradually gliding through the air. You get a birdseye view of mountains and valleys, plus that liberating feeling of 'flying' without actually jumping out of a plane.
Finally, if you're looking for an even more unique experience, try bungee jumping! As your feet leave solid ground and you plunge both fearlessly and gracefully towards the earth below (tethered by a giant rubber band!), there's no better way to honor your inner daredevil!
Elephant rides are a popular activity in Thailand. You can take a ride on an elephant through the jungle and experience the beauty of nature up close. It's also a great way to learn about these majestic animals and their behavior.
Experience Thai Massage
If you're looking for the perfect way to relax while visiting Thailand, then look no further than the relaxation massages found there.
Thailand is renowned for its many massage parlors and spas offering a wide range of treatments that promise to give your body, mind and spirit a boost. From traditional Thai foot massages to body massages, there's something to fit everyone's needs. You can even opt for a spa resort if you're looking for an extra dose of luxury!
Whether it be a full traditional Thai massage or one focusing on specific areas that need attention, relaxation massage in Thailand can help relieve stress from the daily life and put you into serenity mode.
What makes these massages special is the use of aromatic oils and pressure points along with scents that can waft over your senses in soothing waves. Not only does it provide pleasure but has been proved to have immense health benefits as well.
Many visitors have raved about their experiences with the traditional Thai masseurs – especially those who are adept at using unique techniques such as acupressure – claiming they felt completely renewed after their sessions.
So don't fight it! Let go of all stress and relax in the Land of Smiles with an awesome experience with relaxation massage in Thailand!
The Incredible Shopping Experiences In Thailand
Shopping in Thailand is an experience that you won't forget! Not only can you get clothes, jewelry, and souvenirs at reasonable prices, but you can also experience the one-of-a-kind culture of the country.
The best thing about shopping in Thailand is that there are markets, malls and stores for every budget. From luxury brands to family-run boutique shops, there's something for everyone. Plus, many stores offer great deals on items like silk and spices in bulk for even bigger savings!
Another great thing about shopping in Thailand is the opportunity to explore markets such as Bangkok's famous Chatuchak Weekend Market and Patpong Night Market. These vibrant marketplaces are a great way to observe local culture up close while finding some great deals on items such as clothing, antiques or handicrafts.
Finally, don't forget to visit floating markets while in Thailand – they're a great way to enjoy a unique cultural experience while also getting some amazing bargains that you never would have found elsewhere!
Amazing Nightlife
Bangkok remains one of Southeast Asia's top destinations its amazing nightlife. This makes it the perfect destination for people who like to party and have a good time. Some streets are dedicated exclusively to bars and pubs giving off that backpacking vibe found only here – visitors are sure to have a good time well into the early hours without fail!
If you're looking for something more relaxed, there are plenty of beach bars with ocean views and fire dancers. For those looking for live music venues, there are many different options ranging from traditional Thai music to international DJs playing pop, hip-hop, and EDM hits.
No matter where you are in Thailand, whether it's a beach or a city, there will always be bars and nightclubs nearby.
Conclusion
No matter what kind of adventure you're looking for, this country will exceed your expectations and create memories that will last forever. From the vibrant culture and food to the beaches and mountains, there's a unique beauty in this country like no other.
So whether you go alone or bring friends and family with you, don't forget to add Thailand to your bucket list for the ultimate adventures of a lifetime!
Neil James
Neil James is a great believer in getting things done. This includes getting things ticked off your bucket list! From both personal experience and his own bucket list. He shares with you all many great ideas to ensure you live your life to the maximum.
Related posts