List of Moroccan food: What's the best Moroccan Food? Do you want to eat Moroccan food but don't know where to start? Or maybe you already live there and want to add some new dishes to your repertoire? This list contains 30 foods from Morocco that you should try at least once!
Morocco has been known for its delicious cuisine since ancient times. From the Berber tribes who settled there to the Arabs who conquered it, Moroccan food has always been a source of pride. Morocco has been described as the "Land of Spices" due to its rich culinary heritage. Moroccan cuisine is known for its unique blend of spices, herbs, fruits, vegetables, nuts, and seafood.
Moroccan cuisine has a very rich history. It's been influenced by different cultures throughout its long history. Today, it's still considered one of the world's oldest cuisines.
We're going to share with you my top 10 favorite dishes from Morocco. These are dishes that everyone should try at least once. I hope this will help you when deciding what to order in restaurants or while traveling.
Moroccan Food
1. Couscous :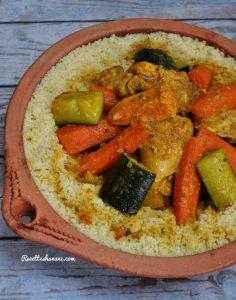 This dish was introduced to North Africa by the Phoenicians around 2000 BC. They were trading people who came across the country, so they brought couscous back home to Spain. The name comes from the Arabic word "kushk" (خُسْك) which means fine meal. Couscous is a national dish, it's a grain similar to pasta and barley. The main difference between these two is that pasta requires cooking whereas couscous is not. You only need to rinse it before eating.
2. Tagine :
This tagine is usually made out of chicken. But you can also find it with lamb, pigeon, partridge, eggplant, prune, or even wild boar meat. Rice is cooked in a clay pot along with other ingredients like dried fruit, preserved lemons, almonds, and olives.
3.Bastilla :
The Bastilla is a typical breakfast dish in Morocco. It consists of an omelet filled with almonds and raisins.
4. Rghaif :
Rghaif is a kind of bread that has the shape of half-moons. It resembles French baguettes. This bread is baked in wood ovens on street corners.
5. Shakshuka :
Shakshuka is a traditional dish served in Egypt, Israel, Palestine, Jordan, Lebanon, Syria, and Morocco. It includes eggs poached in tomato sauce.
6. Babbouche :
Babbouche is a steamed semolina cake topped with sesame seeds. It is prepared for occasions such as weddings, births, and festivals.
7. Taktouka :
Taktouka is a spicy stew originating from Tunisia. It is traditionally eaten during Ramadan and often includes lamb.
8. Maakouda :
Maakouda is saffron rice with fried chicken and vegetables. It is a popular dish in Morocco.
9. Harira :
Harira is a soup typically made of chickpeas, lentils, tomatoes, onions, carrots, and celery. It is believed to have originated in Northern Morocco.
10. Briouat :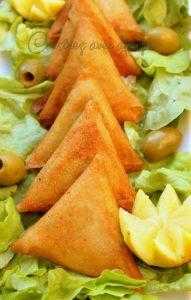 Briouats are pastries stuffed with almond cream, custard, chocolate chips, or coconut. They are sometimes sprinkled with powdered sugar.
11. Choucroute Garnie :
Choucroute garnie is a French-style sauerkraut served with pork knuckle, sausage, bacon, and duck confit.
12. Msemen :
Msemen is a sweet pastry resembling a small pancake. It is usually drizzled with honey or syrup.
13. Baghrir :
Baghrir is a white cheese that is usually spread over flatbread. It originates from Algeria.
14. Fattoush :
Fattoush is an open salad consisting of radishes, cucumbers, green peppers, spring onion, herbs, and olive oil.
15. Baklava :
Baklava is a dessert originating from Turkey. It is made of filo dough soaked in honey and nuts.
16. Mint tea :
Mint tea is a drink prepared from mint leaves.
17. Khobz, The moroccan bread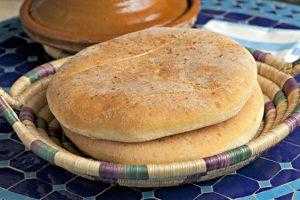 Khobz is a moroccan bread that varies according to each region. In some regions, they use wheat flour and in others, they use buckwheat flour.
18. Moufleta :
Mofletta is a Moroccan snack containing shredded chicken liver mixed with spices and peanuts.
19. Ouzo :
Ouzo is an anise flavored liquor produced in Greece. It is often served chilled in ice cubes.
20. Harcha
Harcha is a kind of flaky pastry made of layers of puff pastry sheets filled with minced meat or spinach.
21. Meloui :
Meloui is Moroccan dish, a kind of deep-fried dumpling made of vermicelli noodles.
22. Kebabs :
Kebabs are skewered food items that are grilled on a vertical rotisserie called a shish taweeya.
23. Selloums :
Selloums are kebab wrapped around a skewer and then lightly coated with flour and water before grilling.
24. Kaak d'Essaouira :
Kaak d'essaouira is a specialty of Essaouira (Mali) it's a mix of fish, seafood, fruits, vegetable, and spices cooked in a clay pot.
See also
25. Fish Tagine :
Fish tagine is a North African cuisine based on the slow cooking method. It is one of the most famous dishes in Morocco.
26. Crusty bread :
Crusty bread is a specialty of Tangier which consists of a soft crust surrounding a spongy interior.
27. Kaab el ghazal :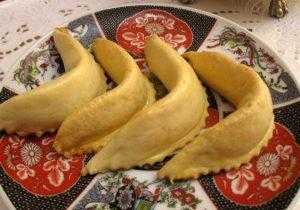 Kaab el ghazal is a traditional dish from the oasis city of Taourirt. It is a mixture of beef, mutton, chicken, eggs, and pine nuts baked inside a banana leaf.
28. Djej maafe :
Djej maafe is a type of beignet commonly found in Morocco but also common in other parts of North Africa such as Tunisia and Egypt.
29. Trid :
Triad is a couscous-based dish similar to Palestine couscous. It is traditionally eaten during Ramadan and is considered by Muslims to break their fast when they eat this meal.
30. Harissa :
Harissa is a spicy paste typically used as a condiment for couscous or vegetables.
Neil James
Neil James is a great believer in getting things done. This includes getting things ticked off your bucket list! From both personal experience and his own bucket list. He shares with you all many great ideas to ensure you live your life to the maximum.
Related posts