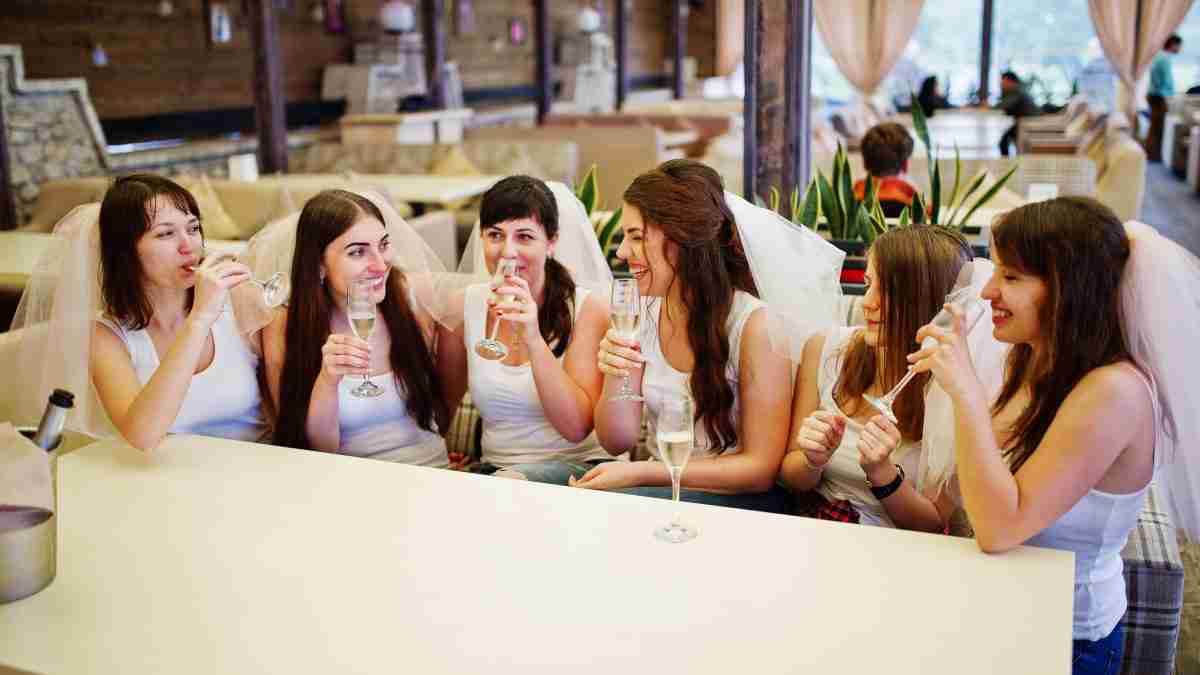 Are you looking for the best hen night ideas? Make sure your bride-to-be has an unforgettable experience with one of these fun and unique hen night ideas.
A Hen Night (also called a Bachelorette Party) is often the last big hurrah before the bride ties the knot. It's a special night when all of her closest friends come together to celebrate her impending nuptials and let loose. Hen parties can take many different forms; they can be wild, glamorized affairs or more demure occasions depending on what kind of experience the bride wants to have.
No matter what vision the bride has in mind, there are plenty of creative ideas that no one will ever forget! Here are some popular and inspiring hen night activity ideas to give you an idea of where to start planning.
Hen Night Takeaways:
A Hen Night is the bride's last big hurrah before the wedding and should be a memorable experience.

There are plenty of creative ideas to make the event special, such as hosting a hot tub party or taking a Jamie Oliver cooking class.

Experiences like Duck & Dry blow dry parties and afternoon tea at 100 Queens Gate Hotel can also add an element of luxury and fun to the hen night.
Fun Hen Do Ideas to Make Your Lady's Night Special
From wild nights out to more relaxed activities, there are plenty of fun hen night ideas to make your bride-to-be's last hurrah an unforgettable experience. Here are some of the best hen night activities that will ensure a night full of laughter and memories:
 1. Hot Tub Party
A hot tub party on the Thames or Lakeside, Essex is the perfect way to celebrate a special occasion. Imagine bobbing down the river in a hot tub with your closest friends and family, enjoying drinks and conversation as you take in the sights of the city. You can bring your own beverages and rent towels, robes, and an ice bucket to keep them cool. As a memento of this unique experience, you can even get a sailor's hat for the bride!
Hosting a hot tub party is also an excellent way to celebrate an upcoming wedding. It's sure to be an unforgettable experience that all your guests will talk about for years to come. Make sure to bring plenty of drinks and hire an ice bucket so they stay cool throughout the night. The bride-to-be will love being able to relax in her own private hot tub while celebrating her upcoming nuptials with her nearest and dearest.
2. Jamie Oliver Cookery Class
Jamie Oliver's cookery classes are the perfect hen-do activity for foodie brides and their friends. With a variety of cuisines to choose from, such as Vietnamese street food and filled pasta, there is something for everyone. The classes take place in Islington, with plenty of bars and pubs nearby for post-feast relaxation. Professional chefs will teach participants how to cook a variety of dishes, giving them the opportunity to learn new skills and create delicious meals. Participants can then enjoy the fruits of their labor by eating the finished creations.
A Jamie Oliver cookery class is an exciting way to spend a hen do, with plenty of fun activities that will keep everyone entertained. From learning new recipes to enjoying the end result, it's sure to be an unforgettable experience. Plus, with all the bars and pubs nearby, you can continue your celebrations afterward!
3. Duck & Dry Blow Dry Party
The Duck & Dry Blow Dry Party is the perfect way to celebrate a hen night in style. Located in London, this blow dry bar offers a range of styles to choose from, so you can get your hair done for a night out with friends. The Instagrammable surroundings make it the perfect place to hang out and sip fizz while you wait. Whether you're looking for an up-do or just want to switch up your wedding hair plans, Duck & Dry has something for everyone.
At Duck & Dry, they understand that getting ready can be stressful, so they strive to make it fun and enjoyable. Their experienced stylists will help you find the perfect look for your special occasion and ensure that you leave with a do to die for. With their luxurious amenities and friendly staff, Duck & Dry is the ideal place to host a hen party and create lasting memories with your closest friends.
4. Afternoon Tea at 100 Queens Gate Hotel
The 100 Queens Gate Hotel in South Kensington is the perfect place to enjoy a luxurious afternoon tea. The hotel offers a delicious spread of chocolate roulade, summer fruit macaroons, lemon and lavender gateaux, and blackberry rhapsody scones. For special occasions, the hotel also has an atrium space called Botanica which can be hired out for private events.
The hotel is conveniently located near many of London's attractions such as museums, Notting Hill, and Harrods. Guests can also take advantage of the on-site cocktail bar after their afternoon tea experience. Harrods continues to be one of London's top afternoon tea destinations with its glamorous 1920s and 1930s high society atmosphere. With attention to detail and excellent service, guests are sure to have an unforgettable experience at 100 Queens Gate Hotel.
5. Get Cultured with Takayo
Takayo offers a unique and culturally immersive experience for hen-do activities. Guests can learn the traditional art of dressing in Japanese Kimono-inspired garments, as well as their names and its meaning in Kanji. They will also be able to practice the traditional art of calligraphy on a paper fan, which is a great way to commemorate the occasion.
For those looking to add an extra special touch to their hen do, Takayo also offers additional extras such as sushi-making classes and private photography sessions. These activities are sure to make your hen do even more memorable and provide you with lasting memories of your time together. With Takayo's help, you can get cultured with a truly unique experience that celebrates Japanese culture and tradition.
6. Feline Afternoon Tea
Feline Afternoon Tea is a unique and luxurious experience that is becoming increasingly popular. Whiskers & Cream in Islington offers an opulent afternoon tea with vegan, vegetarian, dairy-free, and gluten-free options for guests to enjoy while cuddling cats. It is important to check for pet allergies before booking the event as some people may be sensitive to animals. Afternoon tea hen parties are a great way to celebrate any special occasion with friends and family of all ages. Venues range from luxurious hotels to vintage tea rooms and even private homes, so there's something for everyone. Oh, So Sweet Occasions can provide an unforgettable afternoon tea experience in various locations across Ireland, making it the perfect choice for those looking for something special. With delicious food, delightful company, and furry friends, Feline Afternoon Tea is sure to make any occasion extra special!
7. Drink, Shop & Do in Kings Cross
Drink, Shop & Do in Kings Cross is the perfect place to have a fun night out with friends. This crafty hen HQ doubles as a bar, café, independent shop, and occasional nightclub. It's the ideal spot for wedding planning or just having a good time. The calendar of creative workshops and events offers activities such as indoor gardening, flatbread making, and crafting decorations out of used drinks cans.
If you're looking for a pub crawl in the area, start at the Jeweller's Arms in The Jewellery Quarter. Then tour some of the historic former pubs in the area like the atmospheric Gunmakers Arms where you can stop for a drink. Drink, Shop & Do is an exciting destination that will make your night out one to remember!
8. Cheese Tasting at Neal's Yard
Cheese tasting at Neal's Yard is a great activity for a hen to do. Guests can book a 'cheese of the month' tasting or a full cheese masterclass, and the team can tailor the selection to accommodate pregnant hens in attendance. During the session, cheese experts will provide information about different types of cheese and make recommendations based on individual preferences. This is an ideal way to learn more about cheese while having fun with friends.
The experience starts with an introduction to the cheeses, followed by a guided tasting. Guests will be able to sample up to eight different types of cheese from around the world, including soft cheeses, hard cheeses, blue cheeses, and more. The experts will explain how each type of cheese is made and discuss its unique characteristics. They will also provide tips on how to pair it with other foods or drinks for maximum flavor. At the end of the session, guests can purchase any of their favorite cheeses from Neal's Yard's selection.
9. A Bespoke Food Tour
Walk Eat Talk Eat offers a unique and bespoke food tour tailored to the time schedule, budget, and whims of the bride. The tour begins at Tower Hill with cronut and fizz, before heading to Maltby Street Market for some delicious street food. From there, the group will visit a gin distillery, hidden foodie havens under east London's railway arches, and end in Borough Market. Along the way, they will sample slow-roasted brisket with margaritas and sweet treats for a truly delicious hen quest.
Food tours are an ideal hen party idea for brides who love food. Not only do they provide an opportunity to explore local culinary delights, but they can also be tailored to the bride's personal preferences. Harrogate's Secret Food Tour is a great option for those looking for something special – offering an unforgettable experience that celebrates all things food related! With Walk Eat Talk Eat's bespoke tours, you can be sure that your hen party will be one to remember.
10. Glimpse of London Helicopter Tour with Fizz
The Glimpse of London Helicopter Tour is the perfect way to celebrate a special occasion with a 'wow' factor. For up to four people, this thrilling helicopter tour offers an unforgettable experience that will make lasting memories. From the sky, you can enjoy a unique bird's eye view of the world below and take in all the sights of London.
At approximately £100 per person, this tour is an affordable way to give your hen party an extra special send-off into married life. With experienced pilots at the helm, you can be sure that your safety is their top priority while they show you around some of London's most iconic landmarks from a whole new perspective. So why not treat yourself and your friends to this amazing experience?
11. Pottery Workshop
A pottery workshop is a great way to spend a hen party. It's a fun and relaxing activity that allows the group to get creative and make something unique. The three-hour course teaches the basics of hand-building clay and throwing-on-the-wheel techniques. This is an ideal activity for those who have never tried pottery before, as it provides a comprehensive introduction to the craft.
The maximum group size for this workshop is 10, so it could get a little messy! However, this also means that everyone can get involved in the creative process and learn from each other. All materials are provided, so all you need to bring along is enthusiasm and creativity! At the end of the session, each participant will have their own handmade piece of pottery to take home with them as a memento of their special day.
12. the City of Sin Sex Tour
City of Sin's Sex Tour is a unique and scandalous hen party idea that takes visitors through London's most sultry spots. The tour reveals the secret side of history, including places where a composer asked a prostitute to cut off an important part of his body and where 19th-century condoms were sold. It also includes storytelling, entertainment, a history lesson, and a fright night. This tour is perfect for those looking for an exciting and naughty experience in the city.
The City of the Dead Tour offers spooky Scottish experiences, including roaming through Edinburgh's underground city and graveyard tours. The double dead route takes in haunted vaults and a prison famed for its paranormal happenings. This tour is ideal for those who are looking to explore Scotland's dark past while getting their thrills at the same time. Whether you're looking for an unforgettable hen party or just want to explore some of Scotland's most mysterious sites.
13. At Home OPI Gel Manicure
At Home OPI Gel Manicure with blow LTD is the perfect way to get ready for a night out. Whether it's a hen party or just a girls' night out, Hunky Dory offers extensive nail care services and drinks to make sure everyone looks and feels their best. Enjoy a relaxing hand massage while sipping on some fizz, all in the comfort of your own home. The stress-free environment allows the bride-to-be and her friends to enjoy quality time together before they hit the town.
OPI Gel Manicures are known for their long-lasting results, so you can be sure that your nails will look great all night long. With blow LTD, you can choose from an array of colors and designs to suit your style. Plus, you don't have to worry about smudging or chipping as these manicures last up to two weeks! So why not treat yourself and your friends to an at-home OPI?
14. Luxury Chocolate Making
My Chocolate offers a unique and luxurious experience for chocolate lovers. From their Manchester location, they offer packages that allow guests to perfect their ganache and leave with a box of truffles to take home. For those who want more flexibility, My Chocolate also has a mobile chocolate van that can come to you.
This is the perfect activity for special occasions such as bridal showers or hen dos. The bride-to-be can get ideas for wedding favors while everyone else gets to learn about the history and science of cocoa from expert chocolatiers. Participants will have the opportunity to taste signature chocolate and create their own perfect bar. This is an unforgettable experience that will leave everyone with sweet memories!
15. Bake With a Legend
Bake With a Legend is an amazing experience for any baking enthusiast. It offers the chance to learn from some of the stars of The Great British Bake Off in a three-hour baking lesson. During this time, participants will use recipes reflecting the star baker's specialties to create a masterpiece. Fizz, soft drinks, and snacks are included in the package, and if desired, the star baker can come to you!
Big London Bake and Big Birmingham Bake also offer hen party activities with 12 baking stations. Participants have 90 minutes to create their winning bake using all the necessary ingredients provided. This delectable experience is sure to be remembered by all involved! Whether you're looking for a unique activity or just want to brush up on your baking skills, Bake With a Legend has something for everyone.
16. Urban Axe Throwing
Urban axe throwing is an exciting and unique hen party activity that is sure to be a hit with all the guests. Participants will receive a safety briefing before competing in a tournament to hit targets with axes. The winner of the tournament can celebrate with drinks and snacks at the bar afterward. This activity provides an opportunity for participants to learn how to throw axes with experts, while also enjoying friendly competition.
Axe throwing is a great way for hen parties to have some fun and bond together. It's an unusual activity that will create lasting memories for everyone involved. Not only does it provide entertainment, but it also teaches participants how to handle axes safely and accurately. With its thrilling atmosphere and competitive nature, urban axe throwing is sure to be a memorable experience for all involved!
17. Comedy Crime Club
Murder Inc is the perfect way to enjoy a night out with friends and family. This comedy crime club combines improv, intrigue, and a murder mystery format for an evening of laughter and guessing. Participants can enjoy rounds of pizza and drinks while being entertained by some of the UK's finest comedians as well as discovering new talent with sets from up-and-coming comedians. It's a great hen night idea that will bring everyone together for a night of laughs.
The Murder Inc experience is suitable for all ages, so it's perfect for groups of all sizes. The atmosphere is relaxed and inviting, making it easy to get into the spirit of the game. With plenty of clues to uncover, you'll be kept on your toes throughout the night as you try to solve the mystery before anyone else does! So if you're looking for an exciting evening out that will have everyone laughing and having fun, then Murder Inc is definitely worth checking out!
18. Go On a Secret Bar Crawl
A hen weekend in Manchester is the perfect opportunity to explore some of the city's hidden gems. Go on a secret bar crawl and discover the unique and secretive bars that Manchester has to offer. Take breaks between drinks so you can find all the bars, and make sure to take your time to enjoy each one.
For a truly unique dining experience, head over to Digbeth Dining Club. This Michelin-starred restaurant offers authentic street food as well as live music from local bands and DJs. The club is held in various scenic locations across the Midlands, including Warwick Castle and Coventry Cathedral, making it the perfect destination for a hen weekend with a real sense of place. Enjoy delicious food while taking in the beautiful surroundings – it's an unforgettable experience!
19. Step Back into Victorian Times
Step back into Victorian times and explore the streets of Salford. Take a stroll down the cobbled streets and visit the printers, toy makers, general store, and pub. Get some ideas for your wedding fashion at the dressmakers and haberdasher. Enjoy a few hours of watery fun with the girls by hiring Jubilee Pool in Cornwall for a summer hen activity. This is an ideal way to experience a unique day out that will be remembered for years to come.
The pool is perfect for swimming, sunbathing, or simply relaxing in the warm waters. You can also take part in activities such as kayaking, paddle boarding, or even try your hand at fishing. There are plenty of places to eat and drink nearby so you can enjoy a bite to eat after your swim. The Victorian atmosphere will make it feel like you have stepped back in time and you can take away some wonderful memories from this special day out with friends or family.
20. Make Your Own Perfume
The Perfume Studio Experience at the Sleeping Beauty Salons in Scotland is a unique and exciting way to create your own custom scent. During the 90-minute to two-hour consultation, participants will learn about 21 different blends of essential oils and fragrances before combining their favorites to make their own unique scent. At the end of the session, each participant will receive a Fragrance Registration Certificate so they can order more of their custom scent if desired.
For those looking for an interesting hen party activity, why not try perfume making? Guests can enjoy a mixology session where they can experiment with different scents and create something that will be useful for the wedding day. With the help of an expert perfumer, everyone can have fun creating their own signature fragrance that will last long after the party is over.
Hen Night Ideas Conclusion
Hen nights are a great way to celebrate the upcoming nuptials and create lasting memories with friends and family. Whether you're looking for something unique, like making your own perfume, or something more traditional, like a secret bar crawl in Manchester, there are plenty of hen night ideas to choose from. With these ideas in mind, you can plan an unforgettable hen night that everyone will remember!
Neil James
Neil James is a great believer in getting things done. This includes getting things ticked off your bucket list! From both personal experience and his own bucket list. He shares with you all many great ideas to ensure you live your life to the maximum.
Related posts